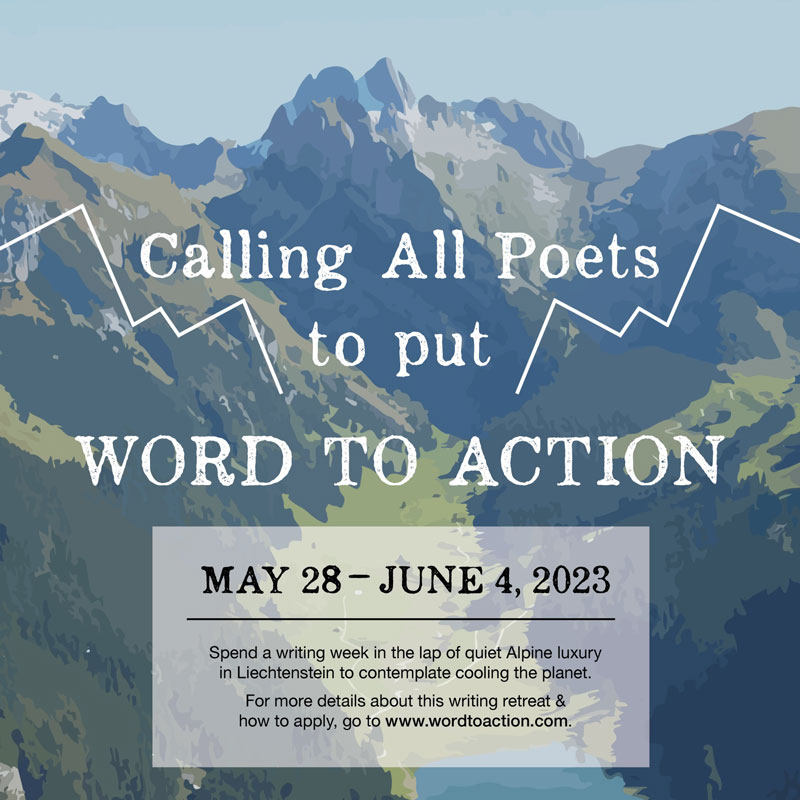 The Word -to-Action writing retreat will be a one (1) weeklong poetry experience where poets and students will have the opportunity to workshop together new or existing work centered around the theme, climate action.  All poets are experienced and may support young poets.  Days will be flexible enough to accommodate plenty of hiking (right out the front door), swimming, or contemplating in quiet alpine surroundings.  Cathy Wittmeyer will be your host for the week.
When:   May 28 – June 4, 2023
Where:   on Eschenerberg, in Eschen, Liechtenstein in spacious guest quarters.
Tuition:   because this is an event to promote individual climate action, poets need only provide their own transportation: poets will stay overnight, and local poets will arrive daily.  Includes daily workshop, scheduled readings, 3 meals per day for lodgers and lunch and dinner for locals. Poets are expected to support each other in workshop and to perform at a matinee spoken word event on the final Sunday or evening event on the Saturday depending on travel plans.
​Lodging:   6 poets will share three private rooms with full bath in each and amazing view.  All rooms share a private kitchen and living space.  Individual desk space will be provided. WiFi is available as well as a printer.
Meals:   meals will follow a holistic seasonal and local plan that is vegetarian with specific preferences accommodated as much as possible.
Travel:  participants should arrange their travel to Buchs, CH via Feldkirch, Austria or Zurich, CH.  Travel to the house from there will be organized by the host. Public transport is encouraged. 
Format: Part workshop, part residency and part adventure, the Word-to-Action retreat provides a relaxed atmosphere to prepare for an exceptional performance on the final day.  
If you would like to join the 2023 Word-to-Action retreat*, please apply.
Application:  please send an email to wordtoaction@gmail.com with your name, address, years writing poetry, a statement about your poetry experience thus far (i.e.  mentors and poets you look up to, and how you think you can make a difference in climate behavior through poetry). Also, please let us also know what role you play best in a poetry workshop. 
 *The 2020 Word-to-Action retreat had to adjust to corona restrictions and was therefore a combination of zoom and live workshopping and performance. See the compilation at https://www.youtube.com/watch?v=CELn-VyGa4Y